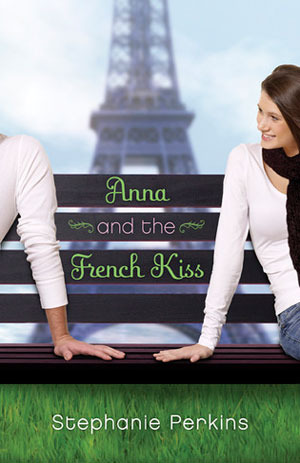 from Goodreads
Published: December 2nd, 2010
Publisher: Dutton Juvenile
Source: Borrowed from the library
Summary: Anna is looking forward to her senior year in Atlanta, where she has a great job, a loyal best friend, and a crush on the verge of becoming more. Which is why she is less than thrilled about being shipped off to boarding school in Paris–until she meets Étienne St. Clair. Smart, charming, beautiful, Étienne has it all…including a serious girlfriend. 
But in the City of Light, wishes have a way of coming true. Will a year of romantic near-misses end with their long-awaited French kiss?
Review: I went to the library today and was browsing the teen section and I stumbled across this book. I knew it was quite popular amongst those who have read it but I never wanted to pay full price for it incase it was rubbish. So when I saw it at the library I thought, why not?
The story is set in Paris and incorporates a lot of french vocabulary in the mix. It takes place at an American school in Paris (essentially a boarding school). Anna (the main character/protagonist) is sent there by her father who thinks the experience would be good for her. Little does she know she'd have to adjust a whole lot to the atmosphere and the people. 
The characters were just okay for me. I think I am in this YA rut where I just find everything so juvenile and immature. The situation was very typical and the back and forth "I love you! But I don't! I have a boyfriend! I don't like you! But I do! I'm gunna kiss my girlfriend but I don't like her! I like you! But I can't!" crap got annoying.
Not going to lie though, I still enjoyed the story. Hours after reading the book I feel rather meh about it but I did get sucked in while reading it. It's a good short read for those wanting to spend an afternoon with a book that doesn't involve much thought. And I mean that in the most not rude way possible.
Rating: 3.5/5 stars!