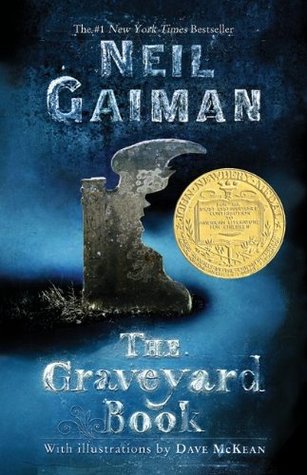 from Goodreads
Published: September 30th, 2008
Publisher: Harper Collins
Source: Purchased
Summary:
After the grisly murder of his entire family, a toddler wanders into a graveyard where the ghosts and other supernatural residents agree to raise him as one of their own.
Nobody Owens, known to his friends as Bod, is a normal boy. He would be completely normal if he didn't live in a sprawling graveyard, being raised and educated by ghosts, with a solitary guardian who belongs to neither the world of the living nor of the dead. There are dangers and adventures in the graveyard for a boy. But if Bod leaves the graveyard, then he will come under attack from the man Jack—who has already killed Bod's family . . . 
Beloved master storyteller Neil Gaiman returns with a luminous new novel for the audience that embraced his New York Times bestselling modern classic Coraline. Magical, terrifying, and filled with breathtaking adventures, The Graveyard Book is sure to enthrall readers of all ages.
Review: I've always wanted to read a book by Neil Gaiman. He gets a lot of praise for his novels and after reading this book I understand why. The synopsis of this book is so intriguing to me. It's so fantastic. I know this book was intended for children as it was oversimplified but as an adult reading it taking that into consideration this book was great. I would have loved to have had this book around when I was a child. It would have been right up my alley. 
A nice coming of age story. Excited to read something else by Gaiman.
Rating: 4 / 5 stars!