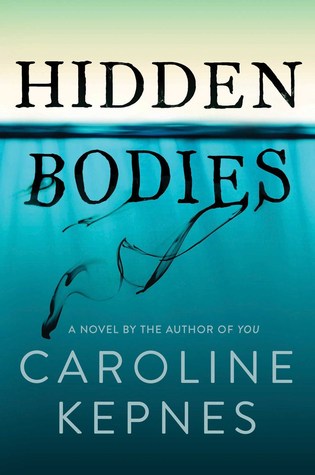 from Goodreads
Hidden Bodies by Caroline Kepnes
Published by
: Atria/Emily Bestler Books on February 23rd, 2016 (expected)
Genre: Thriller/Mystery
Pages: 448
Format: Paperback/ARC
Source: ARC courtesy of Simon & Shuster (Canada)
Summary
: 
Charmingly murderous anti-hero Joe Goldberg continues his twisted quest for the perfect love in this thrilling follow-up to the "deeply dark yet mesmerizing" 
You
. When Joe follows the woman he wants to marry to the West Coast, he never imagines that his obsession will lead him to such tragedy [x].
Review
: 
I received
Hidden Bodies
as an advanced copy not knowing it was a second book in a series. I thought it would hinder the read but I didn't want to look up what happened in the first book (I know reading the second one first will probably spoil some things in the first but whatever). However this fact didn't change how I read the book, which was brilliant by the way.
It was interesting being in the head of a sociopath (Joe). It's weird that his actions seem so justified and doesn't make you hate him when it probably should. He's so incredibly lucky yet unlucky at the same time. His narrations are witty and clever and I liked the dark humour.
The setting was very easily pictured in my mind (does that make sense? I think the word realistic is what I'm going for). I felt like I could picture everywhere the story was taking place. I feel like I could also picture what the characters look like. It's odd for me when that happens so I appreciate it when I do.
She nailed Joe's voice in the story. I always feel like it would be hard to write in the perspective of the opposite sex but it is spot on.
Overall, it was highly entertaining and kept me in suspense. I definitely didn't think it would end that way. I honestly thought Amy would play a bigger part in it than she did.
There's going to be another one after this right? I need to know what happens next.
Looking forward to reading more of Caroline Kepnes books in the future.
*ARC courtesy of Simon & Shuster Canada for an honest review*
Rating: 4/5 stars!